#_LOCATIONMAP
Date/Time
Date(s) - 02/12/2015
6:00 pm - 9:00 pm
Categories No Categories
This event is specific for the students of Andrew Pontzer and is not open to the public.
Intro to Blender Modeling for 3d Printing – Beginner
This class will introduce Blender as one more free and open source alternative for 3D modeling with the intention of having these 3D models printed on a 3D printer. It is a piece of software that works very well on every platform. The intention of this class to give the student some familiarity with Blender so that the experience may be more enjoyable rather than troublesome.
The What
In this class you will have the opportunity to open up Blender and learn how to effectively utilize its modelling capabilities to create 3d objects.
The class will have the following agenda:
Different Blender Operating Modes
How to move in 3 dimensions
How to draw shapes accurately
How to create 3d objects
How to use the '3d cursor' to accurately position objects
How to do Boolean operations between objects
How to import SVG files and make objects from images
How to export STL files for 3d Printing.
It will run for about 2 hours and we can currently support up to 10 students.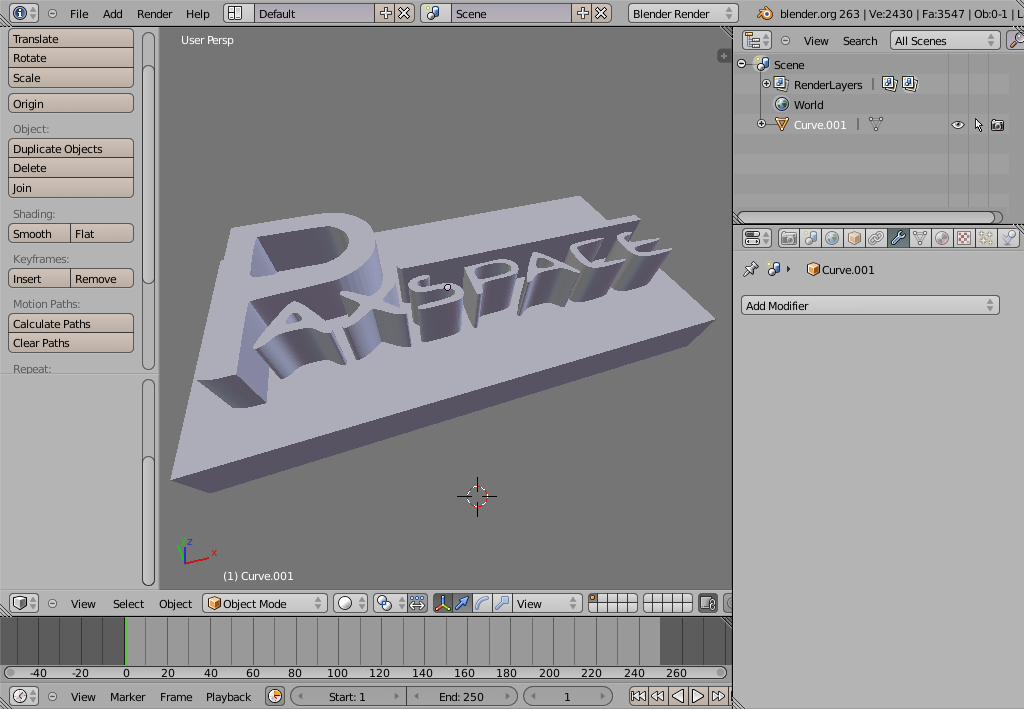 Based upon previous classes, this set of links have helped with with the pre and post class understanding of the main topics:
The Who
The instructor will be Paul Di Biase. He has extensive experience using other modeling software suites (Solidworks, AutoCAD and Sketchup) but is trying to stick with free and open source software suites.
The Where
The instruction will take place in the classroom @ PaxSpace
The Requirements
All students should be familiar with a mouse and keyboard. No previous experience will be necessary for
Equipment and Supplies
We will be using the available computers @ PaxSpace.
If you would like to bring in your personal computer to get setup with Blender and operating on your own machine, please feel free to do so.
The Cost
Fees:

Members: Free
Non Members: $10
All costs get donated with 100% pass-through to PaxSpace Inc as a general donation
After registering you will receive a confirmation email with instructions on how to pay for this class.
You may also bring cash (sorry no checks).
---
Upcoming Classes
No Events
Previous Classes
Interested in this class but don't see one scheduled? Please click here and tell us to schedule one!