#_LOCATIONMAP
Date/Time
Date(s) - 10/24/2014
6:00 pm - 9:00 pm
Categories
Intro to Android App Development
This class will be an introduction to writing Apps for Android using the Android Development Toolkit in Java.
The What
In this class you will learn the steps required to build and release an Android App using the Android Software Development Kit.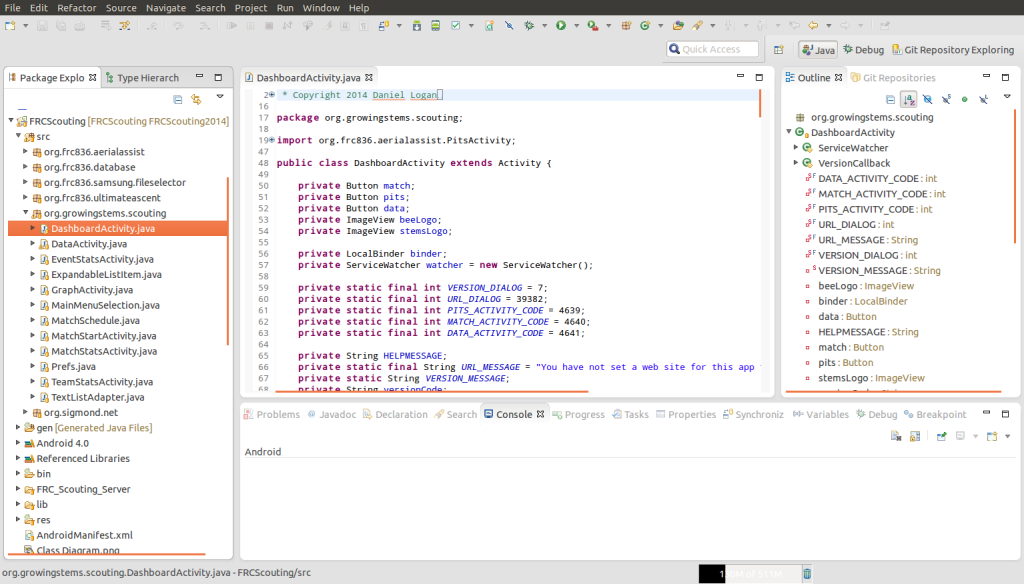 (Image is of Eclipse IDE, which is what I originally used for this class. Android Studio is rather similar, but has a few additional features built in)
We will be walking through the development of a simple app that demonstrates use of the IDE, the Android architecture, and simple user interfaces. We will also cover the steps required to export your app as an apk so you can publish it on the Google Play store, or distribute the apk individually.
The Who
The instructor will be Dan Logan. He has developed multiple Android Apps in the past, and is currently maintaining one on the Google Play store.
The Where
The instruction will take place in the classroom @ PaxSpace
The Requirements
All students must have some programming experience. Intro to Software Development should be sufficient.
As a pre-requisite, if you do not know Java, or haven't used it in a while, please review the slides located here for a quick review:
If you need more review of Java, MIT's Intro to Java slides can be found here:
If you have any questions about Java in general, feel free to message the instructor.
Equipment and Supplies
We will be using the available computers @ PaxSpace.
If you would like to bring in your personal computer to get setup with the Android SDK and operating on your own machine, please feel free to do so. If using your own machine, please install your preferred development environment that supports the Android SDK.
We will be using Android Studio for this class. If you do not have Android Studio, the full Android Development Toolkit bundle can be downloaded here: http://developer.android.com/sdk/index.html
Eclipse with the Android Development Tools Plugin is acceptable as well.
The Cost
Fees:

Members: Free
Non Members: $10
All costs get donated with 100% pass-through to PaxSpace Inc as a general donation After registering you will receive a confirmation email with instructions on how to pay for this class. You may also bring cash (sorry no checks).
---
Upcoming Classes
No Events
Previous Classes
Interested in this class but don't see one scheduled? Please click here and tell us to schedule one!
Bookings
Bookings are closed for this event.