#_LOCATIONMAP
Date/Time
Date(s) - 09/02/2014
7:00 pm - 9:00 pm
Categories No Categories
Intro to CNC Routing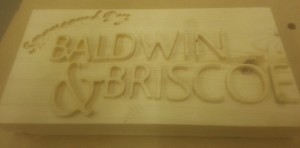 This class will teach the basics of CNC Routing and 2D/2.5D/3D CAM using open source tools. This class is a requirement for members before they are able to use the CNC Router (sponsored by Baldwin and Briscoe). This class is open to the public at a nominal fee. Non-members will learn all of the basics of CNC. Non-members will not be permitted to cut anything on the CNC router.
The What
During this class, students will learn the basics of 2D, 2.5D and 3D CAM as well as how to run PaxSpace's CNC Router.
An agenda for this class is as follows:
2D/2.5D CAM:
3D CAM:
Take STL files and run them through a Blender setup to generate a height map
Run that height map through some software to generate gcode.
V-Carving (signs/engraving):
Create designs in Inkscape
Run F-Engrave to generate gcode
CNC Routing:
Basic setup of our CNC Router
Steps necessary to run the gcode taken from the above CAM solutions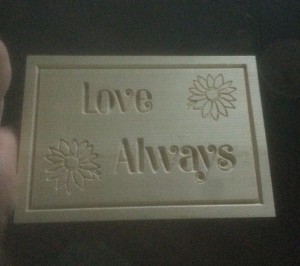 All PaxSpace members must take this course and schedule a one-on-one training session with the Quartermaster for machine setup before they are allowed to use the CNC Router!!!
The Who
The instructor will be Paul Di Biase.
The Where
The instruction will take place in the classroom and workshop @ PaxSpace.
The Requirements
There are no prerequisites  to taking this course.
You must be a PaxSpace member to be able to cut something on the Router.
Equipment and Supplies
Computers with necessary software installed for design work and CAM
CNC Router running GRBL  (not Mach3 or LinuxCNC)
The Cost
Fees:

Members: Free
Non Members: $15
All costs get donated with 100% pass-through to PaxSpace Inc as a general donation
After registering you will receive a confirmation email with instructions on how to pay for this class.
You may also bring cash (sorry no checks).
---
Upcoming Classes
No Events
Previous Classes
Interested in this class but don't see one scheduled? Please click here and tell us to schedule one!
Bookings
This event is fully booked.