#_LOCATIONMAP
Date/Time
Date(s) - 10/06/2014
7:00 pm - 9:00 pm
Categories
Intro to PSoC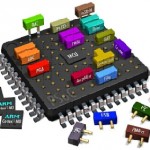 Sponsored By:
PSoC 4 is an ARM Cortex M0-based microcontroller with built in programmable digital and analog peripherals (op-amps, multiplexers, counters, A-to-D converters, etc.).
This class will provide an introduction the PSoC.
All students will receive a PSoC 4 development kit to keep after attending the class!
The What
A 2 hour introduction to the PSoC architecture.  We will cover:
Intro to the PSoC architecture
Intro to the PSoC development and programming tools
How to program software on the ARM microcontroller core
How to define and use the built in hardware peripherals and tie them in with the processor core
The Who
The Instructor is:
Bill Jago:
Electrical Engineer with experience with multiple different microcontroller architectures.
The Where
The instruction will take place in the Classroom @ PaxSpace Inc
The Requirements
No specific prerequisites are required
General microcontroller or C/C++ programming knowledge is a plus but not mandatory
Basic electronics knowledge is also a plus, but we can cover whatever is needed
If students own a Windows laptop, please bring it to the class to get it set up with the PSoC development tools
Equipment and Supplies
PSoC development kits will be provided to each student
PaxSpace and/or student owned computers will be used for programming exercises
The Cost
Fees:
Members: Free
Non Members: $5
---
Upcoming Classes
No Events
Previous Classes
Interested in this class but don't see one scheduled? Please click here and tell us to schedule one!
Bookings
This event is fully booked.