#_LOCATIONMAP
Date/Time
Date(s) - 12/24/2015
8:00 am - 8:15 am
Categories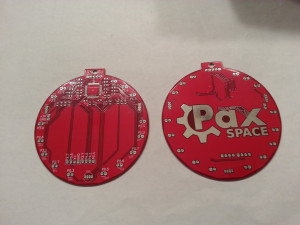 The 2015 PaxSpace ornament is a Christmas ball-shaped PCB with a PSoC 4 microcontroller, space for batteries, and connection points for multiple LEDs or sensors and peripherals.
See the PaxSpace Wiki page for more detailed information on the ornament board design.
Each PaxSpace ornament kit consists of:
1 Ornament PCB
1 PSoC 4 Microcontroller chip
1 battery holder
2 AA batteries
All necessary resistors and capacitors
3 RGB LEDs
Pin headers for programming and connecting other peripherals to the board
A solder paste stencil, solder paste, solder, all necessary assembly tools, and a programming interface for the PSoC will be available at PaxSpace.
We have several sessions scheduled in the PaxSpace electronics lab for people to work on assembling and programming their ornament projects in a group:
If you are already comfortable with assembling and programming your ornament, you can also feel free to work on it at PaxSpace any time if you are a PaxSpace member.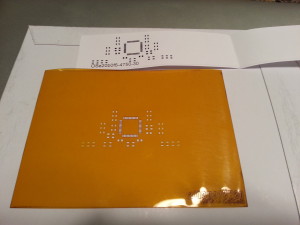 The cost of each ornament kit is $10 for PaxSpace members and $15 for non-members.
You don't need to have any particular expertise for this event. It is a good opportunity for beginners to get hands on electronics experience. If you are already an electronics guru, it is a good challenge to see how you can customize your ornament to do something interesting! Bring along any extra LEDs, speakers, microphones, sensors, LCD displays, etc. and see what you can do with your ornament.
The programming software for the PSoC is unfortunately available for Windows only. If you have a Windows laptop, please bring it with you, or you can borrow someone else's laptop at one of the group build sessions to program the microcontroller.
Here is a video of an assembled ornament blinking the RGB LEDs:

And one that cycles through all of the RGB color spectrum:

Bookings
Bookings are closed for this event.